Chelsea Gwizdala
Session Artist
Social Links:
Model(s) Played: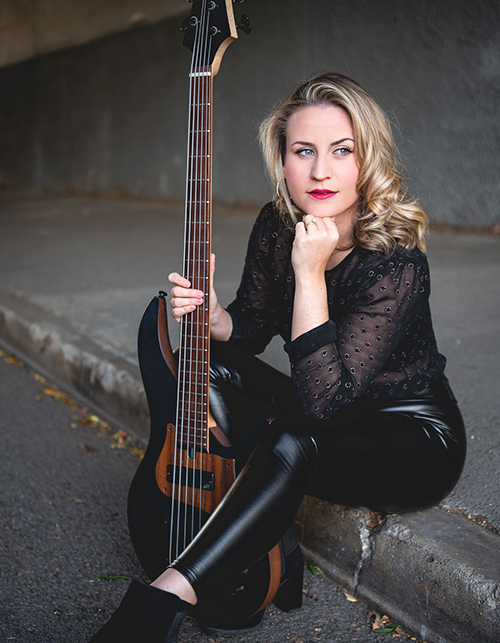 About
Chelsea Gwizdala is a full-time electric & upright bassist and vocalist based in Los Angeles, California. As a live performer, touring musician, and session player, Chelsea has supported artists such as Beyoncé, Kanye West, Chloe x Halle, Morgan James, Andrea Bocelli, Jessie Reyes, Dustbowl Revival, Streetlight Manifesto, and many more, both within the United States and internationally.
Chelsea made her television debut shortly after graduating college as a featured sidelining musician on the Emmy-winning show, Glee, appearing in most of the episodes in the production's final season. Shortly after the show's wrap, she accepted the role as bassist, arranger, & musical director for Latin America's version of The Tonight Show, Estrella TV's Noches con Platanito. She has since performed on television shows for ABC, the CW, and FX, as well as in commercials for many major brands including Apple and Chevrolet.
As an orchestrator and copyist, Chelsea has worked for prestigious composers and producers within the television, film, and performing industries, including Geoff Stradling (Mad Men, The Golden Globes), Kris Bowers (Dear White People, When They See Us), Toni Braxton, Grammy-nominated band We Are KING, and more. She is currently working under Derek Dixie, musical director for Beyoncé, and has most recently orchestrated for and recorded bass on Beyoncé's The Lion King: The Gift, as well as Ungodly Hour, the upcoming album by Chloe x Halle for Beyoncé & Jay-Z's Parkwood Entertainment.
Chelsea continues to live and work in Southern California as a freelance bassist, vocalist, contractor, arranger, copyist, and private instructor, playing and singing all styles of music in a wide variety of venues.
"As a bassist who is constantly thrown into the most diverse and unpredictable musical situations, I truly need one instrument that can make me sound my best at every possible turn. Of the hundreds of basses I've played in the past, my F Bass BN5 is the only one I ever want to play again. It has the growl and punch I need to lead a band, the incredibly fat low-end I need to shake the venue walls, plus the beautiful playability of a world-class instrument. On top of all that, people can't stop telling me it's the most gorgeous bass they've ever seen. Tell me how you could possibly top that!" – Chelsea Gwizdala