Maurizio Rolli
Solo / Session Artist
Social Links:
Model(s) Played: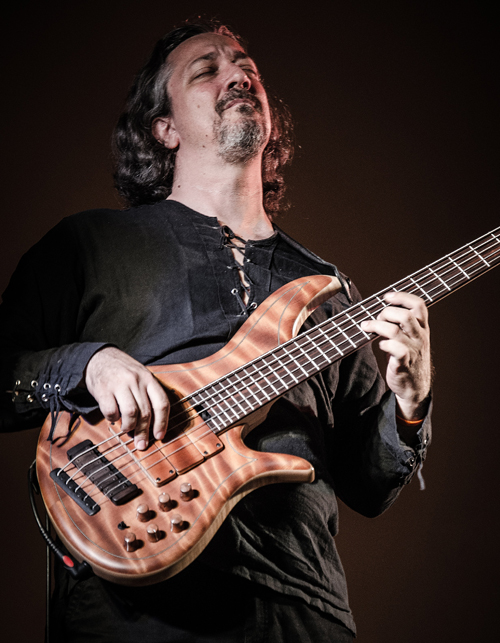 About
Maurizio Rolli's expertise in electric & upright bass, arranging, and teaching was mastered through his double bass and jazz music studies in Pescara, Italy. He is head of the Jazz Department and teaches jazz harmony & all things bass at the world famous "Accademia Musicale Pescarese" in Pescara, Italy. He also shares his experience with countless students by instructing courses at the Conservatorio "U.Giordano" and "L.D'Annunzio".
Maurizio works with with Metropole orchestra (conducted by Vince Mendoza), "Jeff Lindberg's" Chicago Jazz orchestra, and leads his own band "The Rolli's Tones Big Band". His Big Band's 2001 album "Moodswings, a tribute to the music of Jaco Pastorius", recorded with Michael Manring and Mike Stern, was named album of the month in "Bass Player" & "Jazzit" magazines. Rolli's repertoire with "Jazzit" ensued when he was named Best Italian Arranger of 2010 with his album "Rolli's Tones" where he arranged classic rock tunes from the likes of Ozzy Osbourne, Aerosmith, and Rush. In 2002, Maurizio was invited by the Pastorius family to perform with singer Diana Torto at the "Jaco Pastorius Birthday Bash". He has also taken part in clinics with great musicians such as Billy Sheehan, John Patitucci, Anthony Jackson, Michael Manring, Dominique Di Piazza, Andy Timmons, H. 'el negro' Hernandez, M. Camilo, and T. Clausen e S. Pyysalo.
Rolli has recorded with: Peter Erskine, Mike Stern, Michael Manring, Danny Gottlieb, Otmaro Ruiz, Hiram Bullock, Alex Acuna, Bob Mintzer, Scott Kinsey, Bill Evans, and many others.
Signor Rolli has performed with: Michael Manring, Vince Mendoza, Chaka Khan, Metropole Orchestra, Jim Hall, Mike Stern, Omar Hakim & Rachel Z "trio of OZ", Dean Brown, David Liebman, Scott Colley, Diane Shuur, and many others.
Maurizio plays an AC6, a highly customized AC6-Classic, & a Buckeye topped BN5 as the tone, build, and playability inspires him to push his musical boundaries. "George Furlanetto is the Michelangelo of Bass Luthiers! Thank you for teaching me how a real bass should sound" – Maurizio Rolli