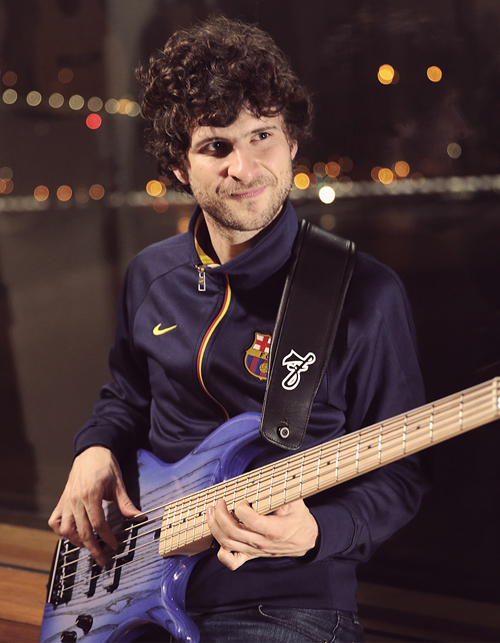 About
Michael League is a Grammy Award-winning bassist, guitarist, composer, arranger, producer, label owner, and bandleader based out of Brooklyn, New York.
As a military brat, he was born in southern California and grew up in both southern Alabama and northern Virginia. Michael attended the University of North Texas' jazz studies program for 4 years, then moved to nearby Dallas for another 3 years, where he worked with some of the most influential figures in modern gospel, R&B, and soul music, and was mentored by legendary keyboardist Bernard Wright (Miles Davis, Chaka Khan).
Performing, recording, and production credits include Grammy Award winners Kirk Franklin, Roy Hargrove, Tommy Sims, Israel Houghton, Marvin Sapp, John Popper, Bobby McFerrin, Gordon Chambers, Lalah Hathaway, Walter Hawkins, and Patti Austin, as well as Musiq Soulchild, Chris Potter, Wayne Krantz, Ari Hoenig, Adam Rogers, Lionel Loueke, Donnie McClurkin, N'Dambi, Lucy Woodward, DJ Logic, Myron Butler & Levi, Bonerama, Ivan Neville, Keite Young, and Jason Marsalis among others.
Michael runs the award-winning instrumental music ensemble Snarky Puppy, whose grass-roots approach to the changing music industry has met major critical and commercial success. Their albums reached #1 on the ITUNES Jazz and #5 on the Billboard Jazz charts in 2013 and 2014, and their collaboration with Lalah Hathaway on the Family Dinner – Volume One DVD garnered the band a Grammy for "Best R&B Performance". His efforts as a bandleader and bassist earned him an interview in the Random House release "The New Face of Jazz" alongside the likes of Wynton Marsalis and Sonny Rollins.
Now in Brooklyn, he has his hands in dozens of pots. He plays regularly in over 20 New York-based groups, and spends the majority of his time producing and arranging for an eclectic blend of artists on both independent and major labels. In early 2012, he launched his own imprint, GroundUP Music, under Ropeadope Records.
Michael is passionately committed to music education and outreach, having given clinics at over 100 schools throughout the United States, Canada, Asia, Pacific, and Europe. He also works closely with several non-profit organizations in the U.S.A. and holds an open-ended artist-in-residence position at Roanoke, Virginia's Jefferson Center for the Arts. He also holds a position as Visiting Faculty at the Institute of Contemporary Music Performance in London, England, and teaches private lessons for The New School in New York City.
Michael is grateful to have such a variety of tools to shape his tone both live and in the studio, each providing a unique flavour. Among those include his F Bass VF5-PJ, VF4-PJ fretless, and Hammertone electric mandolin.
"These are the most badass basses I've ever played in a studio context. Super warm, cut like a motherf*cker, and are a real joy to play." – Michael League