Description
The VF Series captures the vibe and tone of the vintage '60s and '70s industry staples. While we stay true to the originals, we've trickled in much of what we've learned in these past 50+ years. Being fans and collectors of vintage Fender instruments ourselves, we know the hunt for the perfect specimen can be endless, terribly costly, and at times downright frustrating. Our love of the originals is apparent in our design so vintage enthusiasts will feel right at home. Between the infusion of F Bass DNA, premium materials and components, and our build consistency, you'll be hard pressed to find an original that plays and sounds better than an F—all at a fraction of the cost, with lifetime warranty against manufacturer defects and un-paralleled customer support. Not to mention plenty of finish and exotic wood options to truly make it your own. The quest for "The One" just got easier.
Features
Aguilar Pickups
The Aguilar pickups are our favourite vintage repros, handmade in New York with Heavy Formvar wire and Alnico V magnets. Aguilar's P-60 pickup is big, round, and wooly with just the right amount of midrange honk to cut through any mix. The J-HC pickups are hum-cancelling but don't let that fool you, they produce one of the best vintage single-coil tones available. They're clear and aggressive, produce rich "burpy" mids, have loads of presence with firm control of wild high frequencies and respond so well to playing dynamics—with no 60 cycle hum to boot!
F Bass Preamp
Our preamps are handmade right here in Hamilton using discrete components (transistors, resistors, capacitors) rather than over-engineered IC chips. This helps us achieve a more open and transparent sound that allows the instrument to translate its inherent tone without colouration. Our 3-band preamp controls Bass Boost, Mid Boost, and Treble Boost. When all are set flat at 0, there is no perceivable difference from your passive tone. This makes for an extremely predictable and shape-able tool to explore tones or to simply cater to various gigging environments. The 9V pre has a low draw allowing for approximately 500 hours of play. Now if your battery happens to die in the middle of a gig—don't fret!— you can pop up the passive tone control to engage passive mode.
Balance
Through careful design and consideration of each component's weight (down to the ounce), we ensure perfect balance whether playing in the seated position or strapped in. While we take on requests for a slightly lighter weight, we don't shy away from a medium to medium-heavy build clocking in between 9.25-9.5lbs (4 string), 9.5-10lbs (5 string), and 10lbs-10.25lbs (6 string). This gives the VF a commanding rather than toyish feel and avoids dreaded neck-dive. We also find it adds solidity to the low end and packs serious punch through the mids. To maximize comfort in the seated position and to allow for easier access to the end of the fingerboard, our treble horns are curved outwards and set further back into the body.
Customization
Our builds have been dialled in just-so over decades of refinement, however we know that all players are not made the same. We love working one-on-one to determine target feel, tone, and aesthetics. We're happy to refer to past builds with varying combos, but are also open to new ideas that still retain the F Bass DNA. Our goal is to make your dream bass so that you can focus on your craft. We don't want you fighting your instrument or lugging multiple basses to a single gig — so have fun jumping into our custom builder or visiting our photo gallery for inspiration. When you're ready please don't hesitate to give us a call or shoot us an email to get the conversation started!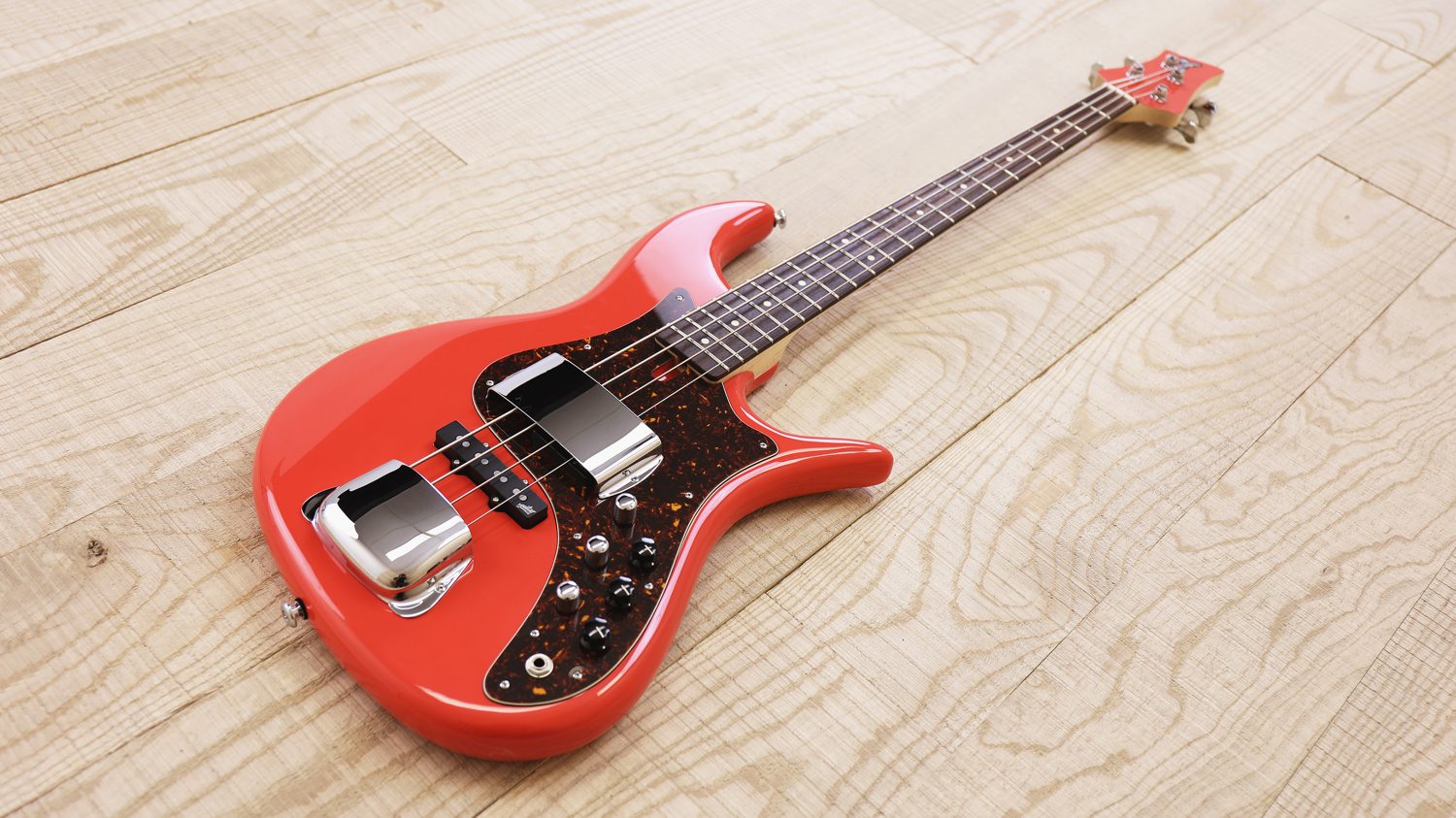 Specifications
4 string
5 string
6 string
Price Starting At

$3700 USD
$3900 USD
$4300 USD
Nut Width
38mm (1

1/2″)
45mm (1

3/4″)
52mm (2

1/8″)
Width at Last Fret
64mm (2

1/2″)
76mm (3″)
93.5mm (3 11/16")
Fingerboard Radius
9″ – 14″
9″ – 14″
9″ – 14″
Scale Length
34″
34″
34.5″
Number of Frets
21
21
24
String Spacing at Bridge
19mm (3/4″)
Strings
DR Steel Fat Beams (with Maple fingerboard) or DR Nickel Low Riders (with Rosewood fingerboard)
Pickups
Aguilar P-60 and/or J-HC
Preamp
F Bass 9V Preamp with Bass Boost, Mid Boost, & Treble Boost
Passive Controls
Neck Volume, Bridge Volume, Tone (active or passive push/pull)
Neck Wood
1 Piece Flat-Sawn or 3 Piece Quarter-Sawn Maple

Fingerboard Wood
Hardrock Maple
Body Wood
Northern White Ash and/or Alder
Tuners
Gotoh tuners with 20:1 ratio (Chrome)
Bridge
Hipshot Steel Bent Plate (Chrome)
Knobs
Aluminum (passive side) & Vintage Black Phenolic (active side)
Standard Finishes: Available as Burst or Fade
SUNBURST with Natural Grain Enhance
TRANSPARENT BLUE with Black Grain Enhance
TRANSPARENT GREEN with Black Grain Enhance
TRANSPARENT RED with Black Grain Enhance
BROWN BURST with Black Grain Enhance

F Bass Gig Bag Included
Made with a water resistant poly-fabric with poly-leather accents, reinforced sidewalls, and a robust handle
Can be made LEFT-HANDED (+ 10% to the base price)
Can be made as a FRETLESS with a Gabon Ebony fingerboard, Ash body with a Maple Centre block flanked by Ebony veneers,
string-through body option with a high mass A Style Bridge, and loaded with Black hardware (+ $1000 USD list)
We have many additional fingerboard, exotic top, finish, and hardware options. Spec your dream "F" build in our Custom Builder!
Gallery