Description
The BN series is the product of 40+ years of F Bass evolution. While it has roots stemming from the original Jazz Bass, it has slowly morphed into our signature sound, feel, and look. The BN series' voice leans heavily on the wood choices and design of the instrument itself, with the electronics designed to simply enhance those attributes, rather than colour them. The F Bass pickups and preamp are natural & transparent though offer the flexibility of a modern active bass. The result is a big yet controlled bottom end, a rich punchy midrange, and a high end that is articulate yet sweet. We're often asked how our BN series differs from our VF series—the BN is a bigger yet more refined and "polite" tone that can still get plenty aggressive when asked.
Features
F Bass Stacked Single-Coil Pickup
Our pickups take the Jazz Bass single-coil a few steps further. While the focus is still a strong midrange and clear high end, the overall tone is thicker, smoother, and with none of the grit or grain in the higher frequencies. To eliminate 60-cycle hum associated with traditional single-coils, simply pull up on the bridge volume knob to engage hum-cancelling mode.
F Bass Preamp
Our preamps are handmade right here in Hamilton using discrete components (transistors, resistors, capacitors) rather than over-engineered IC chips. This helps us achieve a more open and transparent sound that allows the instrument to translate its inherent tone without colouration. Our 3-band preamp controls Bass Boost, Mid Boost, and Treble Boost. When all are set flat at 0, there is no perceivable difference from your passive tone. This makes for an extremely predictable and shape-able tool to explore tones or to simply cater to various gigging environments. The 9V pre has a low draw allowing for approximately 500 hours of play. Now if your battery happens to die in the middle of a gig—don't fret!— you can pop up the tone control to engage passive mode.
BIG Focused Tone
We love a big bass tone though can't stress enough that it has to be focused and controlled. That's why our 5 & 6 string BN's are made with a 34.5" scale length. This 0.5" scale length extension adds clarity to the low B while maintaining a thick and musical G & C. We also don't shy away from a medium to medium-heavy weight build as we find it adds solidity to the low end and packs serious punch through the mids. To control these lower frequencies even further, we string up our BN's with custom F Bass exposed-cores made for us by LaBella. These exposed-core strings were developed in tandem with our BN series and have been continually improved since their inception in the mid 1980's. The steel core is completely exposed over the saddle for maximum contact producing excellent clarity, a clean fundamental, and piano-like sustain.
Balance
Through careful design and consideration of each component's weight (down to the ounce), we ensure perfect balance whether playing in the seated position or strapped in. Our treble horns are curved outwards, set further back into the body, and carved to match the curvature of the fretting hand. This allows for easier access to the end of the fingerboard and maximizes comfort in the seated position. Our BN's are also made with a slightly extended bass horn to bring the first position in a little closer when playing with a strap.
Cosmetic Harmony
When putting so much effort into our design, finishes, and sourcing beautiful tone woods, the last thing we want is to disrupt that aesthetic flow with plastic. So we take the time to grain match pickup shells and backplate covers from the same wood used for the body. To continue this cosmetic harmony, our neck heels and headstocks are also colour matched to the body or crafted with matching wood veneers for exotic topped builds.
Customization
Our builds have been dialled in just-so over decades of refinement, however we know that all players are not made the same. We love working one-on-one to determine target feel, tone, and aesthetics. We're happy to refer to past builds with varying combos, but are also open to new ideas that still retain the F Bass DNA. Our goal is to make your dream bass so that you can focus on your craft. We don't want you fighting your instrument or lugging multiple basses to a single gig — so have fun jumping into our custom builder or visiting our photo gallery for inspiration. When you're ready please don't hesitate to give us a call or shoot us an email to get the conversation started!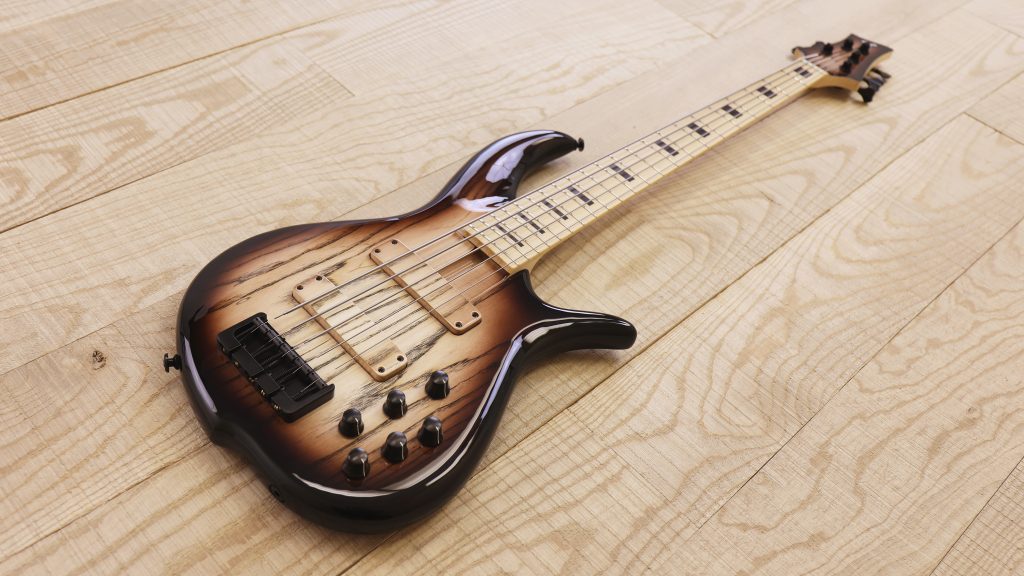 Specifications
4 string
5 string
6 string
Price Starting At

$3700 USD
$3900 USD
$4300 USD
Nut Width
38mm (1

1/2″)
45mm (1

3/4″)
52mm (2

1/8″)
Width at Last Fret
64mm (2

1/2″)
76mm (3″)
93.5mm (3 11/16")
Fingerboard Radius
10″ – 16″
10″ – 16″
10″ – 16″
Scale Length
34″
34.5″
34.5″
Number of Frets
22
22
24
String Spacing at Bridge
19mm (3/4″)
Strings
F Bass Steel Exposed-Core Strings
Pickups
Two F Bass Stacked Single Coil Pickups with Hum-Cancelling Mode
Preamp
F Bass 9V Preamp with Bass Boost, Mid Boost, & Treble Boost
Passive Controls
Neck Volume, Bridge Volume (single-coil or hum-cancelling push/pull), Tone (active or passive push/pull)
Neck Wood
3 Piece Quarter-Sawn Maple

Fingerboard Wood
Hardrock Maple
Body Wood
Northern White Ash and/or Alder
Tuners
Gotoh tuners with 20:1 ratio (Chrome)
Bridge
Aluminum Hipshot B Style (Chrome)
Knobs
Handmade Ebony Knobs
Standard Finishes: Available as Burst or Fade
SUNBURST with Natural Grain Enhance
TRANSPARENT BLUE with Black Grain Enhance
TRANSPARENT GREEN with Black Grain Enhance
TRANSPARENT RED with Black Grain Enhance
BROWN BURST with Black Grain Enhance
F Bass Gig Bag Included
Made with a water resistant poly-fabric with poly-leather accents, reinforced sidewalls, and a robust handle
Can be made LEFT-HANDED (+ 10% to the base price)
Can be made as a FRETLESS with a Gabon Ebony fingerboard, Ash body with a Maple Centre block flanked by Ebony veneers,
string-through body option with a Hipshot A Style bridge, and loaded with Black hardware (+ $1000 USD list)
We have many additional fingerboard, exotic top, finish, and hardware options. Spec your dream "F" build in our Custom Builder!
Gallery